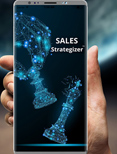 TRUST TRIANGLE SELLING™
Adams & Associates
Trust Triangle Selling offers sales education for the study and application of advanced selling skills. Founder and consultant Daniel J. Adams personally developed Trust Triangle Selling™ concepts which are utilized in seminars and training workshops across the country. With a mindset to "Pay it Forward", Dan created the Sales Strategizer to enable accessibility to the consultative sales theories embodied by Trust Triangle Selling. http://www.trusttriangleselling.com.
Dan Adams is a popular professional speaker, award-winning author, and consultant who draws upon 37 years of experience in the field of sales and marketing. Having honed his sales skills selling multimillion dollar solutions for Fortune 500 and high technology companies, Dan founded a profitable sales consulting company called Adams & Associates, utilizing his own strategic selling principles embodied in his program Trust Triangle Selling™ and now the Sales Strategizer. 
Dan's unique theories originated from a command of technology along with extensive experience in enterprise software and medical technology. While in the sales "trenches", Dan excelled in major account sales and marketing positions with General Electric Healthcare, Cisco Systems and Ariba, Inc., among others and ultimately developed a consultative, direct, and strategic approach to coaching sales teams. Dan authored the award winning  book on consultative selling, Building Trust, Growing Sales™, and has been a contributor to major sales publications and radio programs. Dan also publishes a newsletter written to provide guidance to those wishing to improve strategic and consultative sales approaches and techniques which can be accessed at www.trusttriangleselling.com. Companies such as General Electric have tapped Dan to conduct sales training seminars for a broad range of sales divisions. Dan has also consulted with General Electric, Abiomed, Becton Dickinson & Company and others on the development of internal training programs for sales representatives and managers alike. Now operating his business from Chicago IL, Milwaukee WI, and Naples FL, Dan has traveled nationally and internationally to share techniques from his Trust Triangle Selling™ program. Dan has also assisted in the development of marketing and sales training programs for smaller enterprising companies such as Noteworthy and NetSteps. These accomplishments are directly attributable to Dan's development and implementation of Trust Triangle Selling™ principles. Dan holds a Master of Business Administration and Bachelor of Business Administration degrees from the University of Wisconsin.